Pros and Cons of Coinbase
Coinbase Review with Infographic
Coinbase was launched in San Francisco in 2012 and is now the largest cryptocurrency exchange in the United States. In April 2021, Coinbase became the first U.S. cryptocurrency exchange listed on the NASDAQ stock exchange with an initial public offering valuing the company at approximately $86 billion.
Coinbase has now more than 56 million Crypto enthusiasts across 100 countries using their services, holding more than $220 billion in assets. Institutional Investors can also use their custodial services for cryptocurrency storage.
Coinbase made it to the headlines again when it became the first cryptocurrency exchange to receive a license from Germany's Financials Supervisory Authority (BaFin), allowing them to start offering their services in Germany.
Back in 2019 a law was passed in Germany requiring all companies offering cryptocurrency custodial services to apply for custody license otherwise they would have to leave the country. Although there are a number of other exchanges which are in advanced stages of receiving the license, Coinbase was the first to receive regulatory clarity.
Coinbase scored high in most of our listed Cypto Enthusiast features. However, they lag behind in the fees section - with a poor score of 70%.
The reason is that their fee structure is a confusing involving a combination of elements that depend on two factors as follows:
Spread
Approximately 0.5% for cryptocurrency sales and purchases; rates may be higher or lower depending on market fluctuations.
Coinbase fees 
The greater of either a flat fee or a variable according to the payment method used is charged.
Payment methods fee schedule
So, for example, if I want to purchase $1000 worth of Ethereum at market price from Coinbase using my debit card, I will be charged both:
The spread fee of $5 (as it is usually 0.5%).
The payment method fee of $39.9 (Debit Card fee) as this is the greater between the flat and the payment method fee.
This means that for the $1000 paid on Coinbase, I will receive $955.1 worth of Ethereum. The trading fees charged by Coinbase are on the high side, especially if you buy and sell cryptocurrency on a daily basis.
Coinbase Pro fee structure is more straight to the point and offers cheaper trading fees. 
Moreover another con identified when reviewing the Coinbase platform is the fact that in a number of jurisdictions, users are allowed to fund their Coinbase wallet and purchase cryptocurrency, they will not be able to liquidate and withdraw their digital assets as the cash out option is still not yet available.
Coinbase Ease of Use
Coinbase's website is pretty straight forward and the platform is incredibly easy to use. Signing up takes only a few minutes, and you can then link your bank account to your account through data transfer network Plaid, the recommended method to minimize trading costs.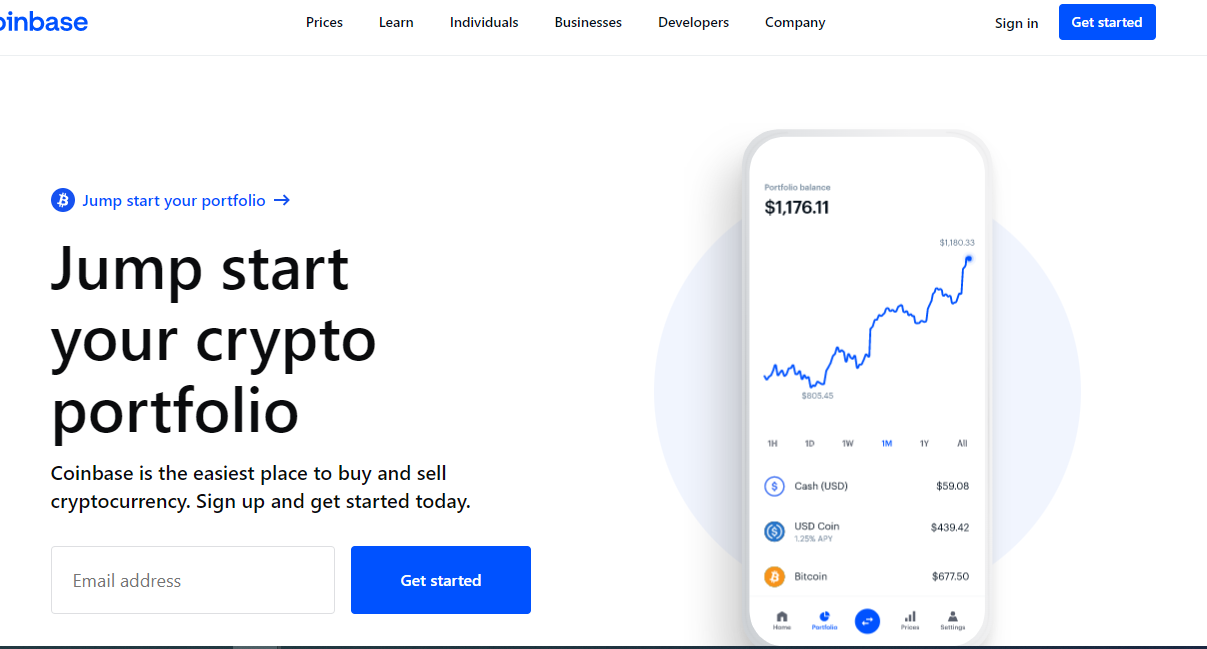 The interface is bright and simple to navigate. A search bar helps you browse through the myriad of crypto offerings available—from Bitcoin to less known cryptocurrency — and you can set up purchases to recur on an ongoing basis. This way you automate your crypto investment strategy to dollar-cost averaging (DCA)
Coinbase Security
Coinbase is considered as one of the most secure platforms for cryptocurrency purchases and trading. The brokerage includes several safety measures to protect user's personal information and funds from external threats, internal error (e.g. human mistakes) and misuse of internal authority. Coinbase utilizes the following institutional-grade measures for secure crypto storage:
99% of funds are stored offline.
Funds stored are distributed across different geographically locations in safe deposit boxes and vaults.
Multi-signature scheme to eliminate single points of failure.
Coordinated actions from multiple employees with multi-factor authentication.
2 Step verification on all Coinbase accounts.
Sensitive data is held offline and disconnected entirely from the internet.
Encryption to protect user login and personal information.
Coinbase Earn
Coinbase incentives their customers to learn about cryptocurrency projects to earn free cryptocurrency. This program attract beginners while becoming knowledgeable about supported blockchain projects. To earn currency in Coinbase, users need to create an account with Coinbase.
The users just have to watch a series of videos about a selection of coins and invite their friends to earn more. Once the quiz at the end of each lesson is completed, the currency is deposited to the users wallet. The reward amount does vary depending on the specific coin and can be converted into Bitcoin using Coinbase Pro or cashed out to fiat money.

Other incentives offered by Coinbase look like the ones below - with chances to win cryptocurrency for taking a certain action.

Coinbase Staking
A major benefit of buying crypto on Coinbase is the ability to earn staking rewards by depositing crypto to earn up to 10% APY. Staking coins can be difficult for beginners to do on their own which makes this feature particular beneficial for new investors that want to lock in their cryptocurrency and earn rewards.
Coinbase supports a number of Proof-of-Stake (POS) coins such as Tezos, Algorand, Cosmos, DAI and USD Coin. The downside with staking on Coinbase is the service fee of 25%that is deducted from the earned rewards in the end. This fee is to cover the expenses incurred for providing the service and is quite expensive compared to other reputable cryptocurrency staking platforms like Binance, Kraken and eToro.
Coinbase Customer Support
This is a major issue of cryptocurrency exchanges - it's very hard to get live support. For customer service issues or questions, the best method to get in touch with Coinbase is using the ticket system. Users can choose the product or service and select a topic related to the issue such as:
Account compromised or unauthorized use
Login, authentication or verification issues
Account management
Taxes, reports, and financial services
Trading and funding
In the event a Coinbase account has been hacked or is suspected of being compromised, there is the option to contact the support service via phone to immediately disable the account, however this option is not available for other account issues experienced on the platform. Users will need to rely on the Help Section which is comprehensive or log a support ticket.
Should I Use Coinbase?
If paying a little bit of extra fees when buying or selling cryptocurrencies is not your concern, then Coinbase offers an excellent cryptocurrency platform which caters for beginner-intermediate crypto enthusiasts starting on their crypto trading journey, allowing you to buy and sell a myriad of digital assets.
It's user friendly interface makes it super easy to purchase the cryptocurrency you want and storing them in your coinbase wallet with just a few clicks. Before you buy or sell any cryptocurrency, make sure that you are well-equipped with the basic knowledge around the topic, you can visit our Cryptopedia section which provides articles tailored for different levels of knowledge.
As discussed, Coinbase has a proven track record in terms of service, safety and reliability. Now that they are listed on the NASDAQ stock exchange and regulated by a number of different bodies, it makes it an even more secure cryptocurrency exchange.
Coinbase offers several different products and services to help investors in their crypto trading journey such as Coinbase pro, a borrowing facility (using Bitcoin as collateral), among others. They also have a coinbase card (visa debit card) which allows users to pay using their cryptocurrency, funded by your coinbase wallet.
All the features offered coupled with the "Learn and Earn" section, gives the opportunity to Coinbase users to receive the crypto service required and earn free cryptocurrency. Users can easily earn up to $30 by watching a few videos and learning on the topic - It's a win win.